Forex Options Trading | FX Options Trading | Options Trading Strategies | Spectrum Live

What are Forex Options?
Forex Options trading is a more advanced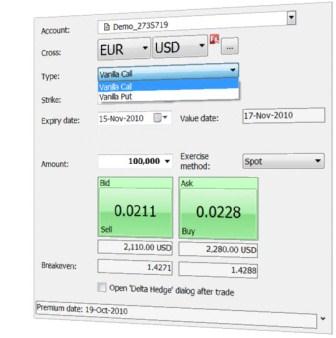 type of currency trading available with a Spectrum Live online trading account. FX Options can be used to facilitate a number of trading strategies on a medium to long-term investment timeline. Forex Options are available for currency crosses and Gold and Silver against the US dollar.
A Forex Option gives you the right, but not the obligation, to either buy (Call Option) or sell (Put Option) a certain currency pair at a specified price (known as the strike) on a specified date (the expiry date). For this right to buy or sell the underlying asset, you pay a premium upfront to the seller of the Option. Whether you choose to use, or exercise the option, this right is dependent upon the market conditions at the time the Option expires.
Trading Forex Options makes it possible for you to profit when a currency pair moves higher or lower.
At Spectrum Live, Forex Options are traded OTC (Over the Counter) allowing you to choose the expiry date, strike price and amount (size of the trade). So if you want to trade In The Money, At The Money or Out of The Money, all yoiu need to do is dial it up via the easy to use order pad. There is no need to wait for the price of the security to reach a certain price, you can simply choose the option strike that suits you! FX Options can be traded whenever the currency markets are open from New Zealand Opening on Monday until New York Closing on Friday.
Spectrum Live is among a very small number of providers to offer trading of FX Options directly on live streaming prices, without dealer intervention, direct to you. Spectrum Live offers you Over the Counter (OTC) plain vanilla European style Forex Options in well over 40 major currency crosses, traded online through Spectrum Live's online trading platforms.
Click here to visit FX Options Trading Strategies
Benefits of Trading Forex Options with Spectrum Live
Forex Options for almost 40 currency pairs;
The FX Options Trade Board brings an innovative and intuitive trading tool to investors;
Spectrum Live will provide you with education, information and support to open up the Forex Options market;
Option trading on live streaming price quotes (no dealer intervention);
Option expiries from short dated to one year;
Gold and Silver Options;
Automatic exercise of Options on expiry