Mobile Trading Platform | Mobile Trading Application | Trading Platforms | Spectrum Live
Spectrum Live Mobile Phone Trading Application is compatible with all leading smart phones.

Mobile Phone Trading Application
The Spectrum Live Mobile Phone Trading Application complements the Spectrum Live Web Trader and the Spectrum Live PC Trader, giving you even greater possibilities to establish immediate contact with the global markets. This flexible mobile trading application provides extreme mobility and around-the-clock access to trading your account. Our clients often credit us with having the best mobile phone trading platform they have ever used because of its ease of use and simple design.
Never Miss Another Trading Opportunity
With the Spectrum Live Mobile Trading Application, the markets are never far from reach. The Spectrum Live Mobile Phone Trader works with browser-enabled mobile phones allowing you to see all your positions, open orders, read news, do simple charting or view your account status anywhere in the world, and all from the palm of your hand. New orders can also be created and existing ones amended.
The best mobile phone trading platform is available by opening a live account with Spectrum Live. You can also trial the mobile phone trading platform by downloading a demonstartion account where you can trade the markets as they happen with virtual cash, sometimes referred to as 'funny money'. Which ever you choose, you will be surprised at how easy it is to access thre markets and trade using your mobile phone. Technology keeps on advancing in the financial markets world allowing retail investors easier ways to access their trading accounts. With the Spectrum Live mobile phone trading platform, you'll never miss another trading opportunity.
The Spectrum Live Mobile Phone Trading Platform allows you to do the following: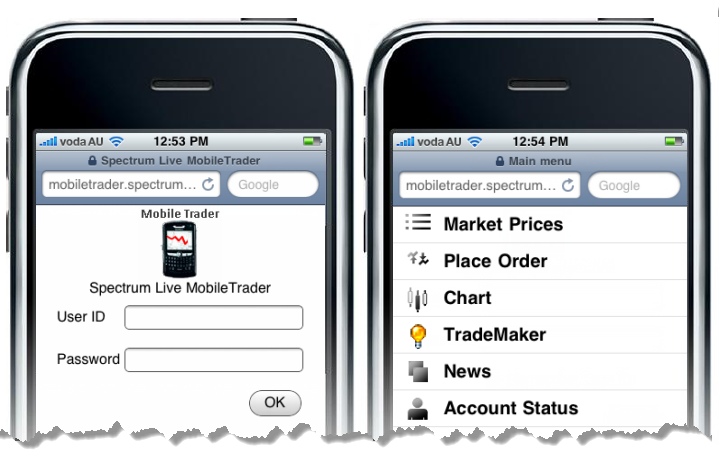 Mobile Trading Software
Even with the convenience of an electronic trading platform there are a number of ways that technology has come forward to make trading even more convenient on another platform. Mobile trading has become one of the newest and most popular ways to make trades online. Because phones and become so advanced, it is now possible for anybody with a smart phone and a connection to the Internet to download a mobile trading application and make trades online. There are number of mobile trading platforms that are available for several different devices.
Many of the mobile trading platforms work on the same principle as the electronic trading platforms which are available in a browser or a standalone programs for traders. The advantage that a mobile trading platform gives is that if the market were to crash or if a trader is away from their computer they will be able to make clutch trades during the trading day and potentially save themselves money if the market drops. A mobile trading platform also allows a customer to check on their trades and investments even if they are far away from the computer or on vacation. There is no reason why your investment should have to go unnoticed or unwatched if you are away from the city or away from your home computer.
Mobile trading platforms are available for phones using operating systems like the IOS operating system any android operating systems. Most popular smart phones run either one of these operating systems and allow for easy installation of a mobile trading platform application. It is important to do the proper research before checking in or downloading one of these applications the some of the trading applications only work to monitor the market and do not allow for trades. As well, some of the mobile trading platform applications require a user to pay in order to download this type of platform for their phone. Trades can sometimes be taken at a premium for the service of being able to make trades where ever a person is. Occasionally commissions will be raised when using a mobile trading platform so it is still in some cases easier to use the PC equivalent of the same trading platform.
These trading platforms still require the same specifications that are required under united states trading platform laws. A mobile application for trading requires the use of a username and password as well, it will record any trades or data which are made from the mobile device. Usually reports can be viewed on a computer as well as on the phone and are kept across networks. This is still fairly new technology but a number of companies online are crafting mobile access to their electronic trading platforms.
With further development we are sure to see more and more people adapting this type of trading platform. Having the convenience, to make trades wherever they are and to check on the market without being near a computer can be a crucial tool to have when trading. With better systems we are sure to see investments that move faster and can be carried out from just about anywhere in the world.