Forex Trading Platform | Forex Trading Software | Forex Trading | Spectrum Live

Forex Trading with Spectrum Live
Spectrum Live is among the world's leading providers in the forex trading realm offering 160 currency crosses for you to trade.
You will benefit from competitive spreads with low margin requirements to execute your trades.
The Forex market is a group of 1000's of currency trading institutions, including international banks, government central banks and commercial companies. Currency trading has been thought of as a 'professionals only' market available exclusively to large institutions, however, because of the capabilities the internet provides, we are now able to offer you the ability to participate in the forex market.
The major currency pairs traded are the: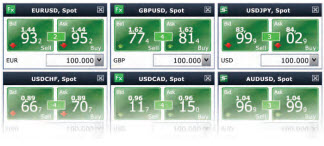 Euro (EUR/USD);
British Pound (GBP/USD);
Japanese Yen (USD/JPY);
Swiss Franc (USD/CHF); and
Australian Dollar (AUD/USD).

Spectrum Live offers trading ratios that start from 50:1 which means you could control $5,000AUD with as little as $100.